Adjustable Angle Crosscut w/Drop Panel #001
Adjustable Angle Crosscut W/Drop Panel - 001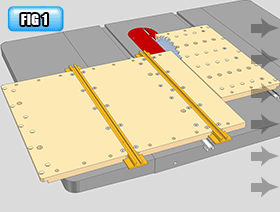 Build-It Platform Components Required:
- 1
Large Build-It Panel
- 2
Small Build-It Panels
- 2
Miter Sliders
- 2
T-Slot Panel Connectors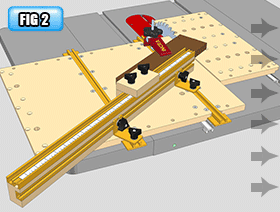 Just Add
-
24" T-Track Regular
-
24" T-Track Plus
-
Build-It Knobs
-
Build-It Brackets
-
Build-It Clamp
Based on a simple shooter board styled squaring jig, this wonderful implementation of the
Built-It System
components offers much more than just 90 degree cutoff control. The
T-Track Plus
and user made stop positioner provide repeatable crosscut length control. The rear mounted
T-Track Regular
combined with a pair of
Build-It Brackets
along with the twin
T-Slot Panel Connectors
allow for unlimited adjustment of the fence angle. And the locking drop panel safely catches any off cuts from your workpiece.
Begin by adding a
Miter Slider
to a small
Build-It Panel
. Place in your table saw's miter slot and adjust for a good fit, then add a T-Slot Panel Connector to each edge. Increase the platform width away from the blade by adding another Build-It Panel. Add a large Build-It Panel to the opposite edge. Trim to the blade and then use the remaining piece of the large panel along with another Miter Slider to make the drop panel as described in Steps 3 through 7 shown on the reverse side of your Build-It Panel's wrapper. Make the 24" fence and stop as shown in Fig. 3 and Detail 3A using 24" T-Track Regular and T-Track Plus components then attach to the T-Slot Panel Connectors using a pair of Built-It Brackets. Lock the drop panel adjacent to the saw blade to catch the off cuts, adjust the fence angle to suit your project and cut away.
downloads

Click to download Adjustable Angle Crosscut w/Drop Panel Jig Plan (001) in PDF format.