INCRA flip fence
Part Number: FLIPFNC18, FLIPFNC36 & FLIPFNC52 (FLIPFNC18 shown here)



Available in 3 sizes - 18", 36" & 52".
The INCRA Flip Fence is designed to give your INCRA Miter Gauge outstanding performance. Manufactured from aircraft grade aluminum extrusions, this fence profile is designed to coordinate perfectly with the optional Flip Shop Stop shown in these photos.
The interlocking fingers on the Stop and Fence give you a perfect stop even when cutting sharply mitered workpieces. And of course, INCRA's patented rack system is fully integrated in the fence to give you the incremental accuracy made famous by INCRA Tools.

The INCRA Flip Fence and Flip Shop Stop are popular upgrades for all INCRA Miter Gauges, and the Flip Fence's mounting T-slot also allows integrating this stop and fence system into sleds and miter saws as described in this user video.

Compatibility:
Flip Fences can be used with every INCRA Miter Gauge and the Flip Shop Stop. Flip Fences are NOT compatible with the standard, "non-flip" Shop Stops from INCRA Router Fences or INCRA Track Systems.
(
Optional Flip Shop Stop
)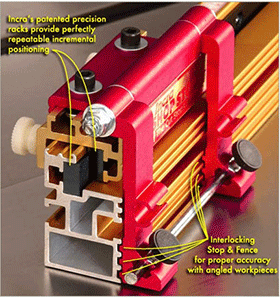 video
detail focus

This Top-of-the-Line Fence Fits Any INCRA Miter Gauge.
downloads


Click to read INCRA Miter Gauge e-Brochure.



Click to see Miter Gauge Comparison Chart.

video demos

Click to download INCRA Miter Gauge - IncraLOCK Cut-Off Fence Video in Windows Media format.

Click to download Complete INCRA Miter Gauge in Windows Media format (31.7MB, PLEASE BE PATIENT - this may take several minutes to load.)
accessories

INCRA Flip Shop Stop
Add our top-of-the-line Flip Shop Stop for the ultimate in repeatable accuracy. The dual-arm design is exceptionally rigid and the arms can be separated and operated independently. The expandable body even allows the use of a wooden zero-clearance sub fence (hardware included.)