Adjustable Angle Crosscut #007
Adjustable Angle Crosscut - 007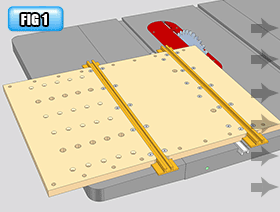 Build-It Platform Components Required:
- 1
Small Build-It Panel
- 1
Large Build-It Panel
- 1
Miter Slider
- 2
T-Slot Panel Connectors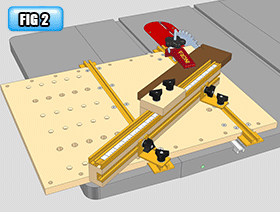 Just Add
-
18" T-Track Regular
-
18" T-Track Plus
-
Build-It Knobs
-
Build-It Brackets
-
Build-It Clamp
Similar to Plan
#001
(Adjustable Angle Crosscut with Drop Panel), this crosscut jig has a shorter 18" fence and uses fewer components to achieve comparable functionality. The T-Track Plus and user made stop positioner provide repeatable crosscut length control. The rear mounted T-Track Regular combined with a pair of Build-It Brackets and the twin T-Slot Panel Connectors allow for unlimited adjustment of the fence angle.
Begin by adding a Miter Slider to a small Build-It Panel. Place in your table saw's miter slot and adjust for a good fit, then add a T-Slot Panel Connector to each edge. Increase the platform width to cross the line of cut by adding the large Build-It Panel. Trim to the blade as described in Steps 3 & 4 shown on the reverse side of your Build-It Panel's wrapper then mount the cutoff from the large panel to the opposite side of the small panel. Make the 18" fence and stop positioner as shown in Fig. 3 and Detail 3A using 18" T-Track Regular and T-Track Plus components then attach to the T-Slot Panel Connectors using a pair of Built-It Brackets. Now you can adjust the fence to the desired angle, clamp your workpiece in place and begin your project's crosscut requirements with confidence.