INCRA miter channels
Part Number: MITERCHANNEL32 & MITERCHANNEL48



Available in two lengths: 32 " & 48 ".

Works with INCRA Miter Sliders and INCRA Miter Gauges or any standard 3/8" by 3/4" miter bar. T-Slot design for hold down capability. Mounts easily with pre-drilled holes and included fasteners.
Hard anodized aluminum for durability.
For most applications, the Flush Mount "Groove" method of mounting is preferable though you may find benefits in considering the Flush Mount "Build Up" or Surface Mount methods shown in the photos below.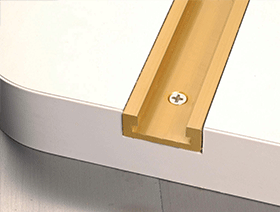 Groove:
Cut a 1 1/8" wide by 1/2" deep groove in your application to fit the INCRA T-Slot Miter Channel. When installed, the Miter Channel should sit slightly below the surface of the table. Attach using the supplied fasteners.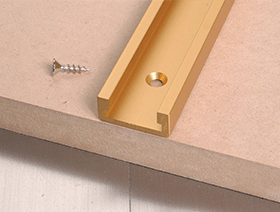 Build Up:
Use 1/2" thick material on either side of a surface mounted INCRA T-Slot Miter Channel to create a flush mount.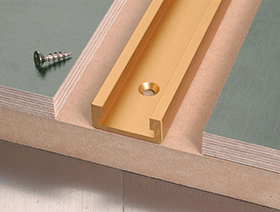 Surface Mount:
Use the supplied fasteners to attach the
INCRA T-Slot Miter Channel directly to your application.