INCRA tracks
Part Number: TRACK18, TRACK36 & TRACK52



Locate ANY cut on ANY machine EXACTLY where you want it.

Lengths of INCRA Track fence without the incremental Shop Stop are an inexpensive way to add a sturdy, basic fence to jigs or miter gauges, but they're also ideal for expanding an existing INCRA Track installation when you don't need an additional Shop Stop.

Available in 18", 36", and 52" lengths, these universal fences will easily attach to nearly any horizontal or vertical surface using a wide variety of mounting holes and T-slots. Mounting hardware is included. The design also features T-slots on the working face for attaching zero-clearance sub fences for splinter-free crosscutting.

INCRA Track is equipped with our patented incremental rack system for outstanding stop positioning accuracy and 1/1000" repeatability when used with the INCRA Shop Stop to give your jigs, fixtures, and fence system cutting precision not available anywhere else.

Sorry, INCRA Track is NOT compatible with the Flip Shop Stop used on our miter gauge fences.
Sawtooth Racks
The key is INCRA's patented sawtooth racks which position your work instantly and automatically in EXACT 1/32" steps with true machine shop precision without measuring.

It's also micro adjustable to fine-tune your position anywhere between fixed steps.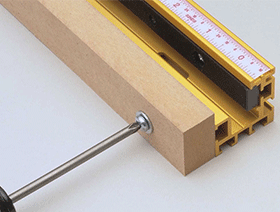 Easy Installation
INCRA Track attaches directly to just about any horizontal or vertical surface, so it will easily mount to all of your favorite tools. Mounting hardware is included. Easy installation on almost every power tool, jig and fixture in your shop. Solid aluminum linear tracks available in 18", 36", and 52" lengths, feature five T-slots, multiple mounting holes, hardware and illustrated instruction manual.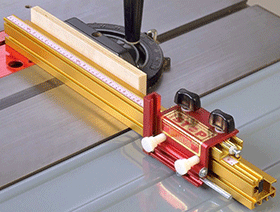 Miter Gauge
Improve the performance of any miter gauge, and put an end to trial and error cuts forever. You'll find your crosscuts not only accurate, but repeatable as well.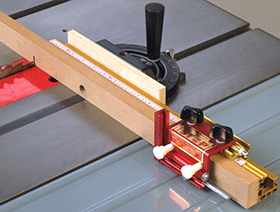 Zero Clearance Fence
A shop-made wooden subfence slides directly onto the Track's front face to provide splinter-free zero clearance support for all of your cuts.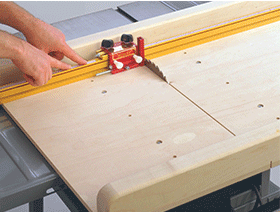 Jigs & Fixtures
We call INCRA Track the Jig-Makers Jig! Now you can add INCRA's famous precision and repeatability to all of those one-of-a-kind shop-made jigs and fixtures that are so useful for specialty operations and production work. The crosscut sled shown here is just one example.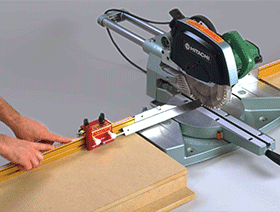 Miter Saw
Add INCRA Track's incremental precision to both sides of the blade, and throw out your tape measure. This is what every Miter Saw needs! Track sections can be cascaded for unlimited crosscutting capacity.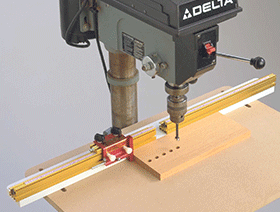 Drill Press
Work at your drill press is quicker, easier, and far more accurate with the INCRA Track System. You'll find it particularly useful for holes such as counterbores which require more than one bit and multiple synchronized drilling operations.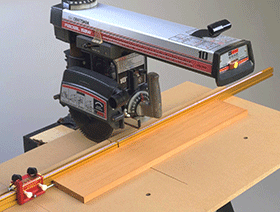 Radial Arm Saw
Add a precision incremental fence to your Radial Arm Saw. Track sections can be mounted end-to-end for unlimited crosscut capacity. Works on both sides of the blade.
detail focus

The INCRA Track System was designed for maximum versatility in your woodworking shop. Multiple T-slots and through holes provide a means for quickly and easily attaching these rigid aluminum track sections to virtually any woodworking tool.
downloads

Click to download INCRA Track Manual in PDF format.


Click to download INCRA Track System Brochure in PDF format.

accessories

INCRA Shop Stop
Add our super-versatile INCRA Shop Stop for the ultimate in accuracy. Patented incremental racks allow the stop to index in perfect 1/32" intervals for perfectly repeatable setups, and there's also a screw-based micro adjust. The expandable body allows the use of a wooden zero-clearance sub fence (hardware included!), and this stop also fits INCRA router fences and Build-It Track Systems.