INCRA Miter Gauge Combo Pack
Part Number: ME/1000SE



Get the max savings on the INCRA Miter Gauge Combo Pack. The package includes the INCRA Miter 1000SE plus the INCRA Miter Express.
This combination of two great INCRA crosscutting tools is incredibly practical and
convenient. When mounted to the
Miter Express
, the
Miter1000SE
can easily crosscut 24"-deep panels, offers the increased control of using a sled, and allows great safety for cutting small parts using the Miter Express' heavy duty hold down clamp and T-slots that easily accommodate shop-made jigs and fixtures. The Miter 1000SE can also be removed from the Express sled in seconds and used by itself for quick solutions to a variety of operations, such as working at a router table or cutting bevels with the saw blade tilted.
The Miter Express & Miter 1000SE Combo
offers versatility not available anywhere else at a price that makes it a fantastic value!
Miter Gauge Combo Pack Features:
Dock & Lock Any Brand of Miter Gauge in Seconds. Removing your gauge is just as easy - simply release three locking screws and lift your gauge out cleanly. There is absolutely no modification required to your miter gauge for this speedy lock and release feature.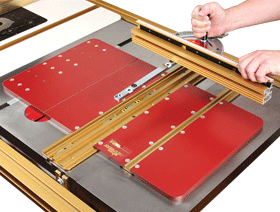 Removable T-Slot Retaining Clips. The Miter Express features removable front and rear T-Slot Retaining Clips for sled stability at both the beginning and end of deep crosscuts.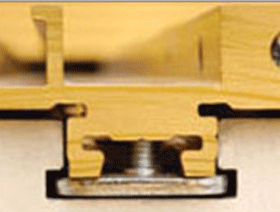 Express Adjustable Guide Bar
The
Miter Express
features a miter bar that's conveniently adjustable from above for a perfect fit in standard miter gauge slots measuring 3/4" wide, 3/8" deep, and with or without a 15/16" T-slot at the bottom. The miter bar's adjustment range accommodates actual slot widths of 0.740" to 0.760".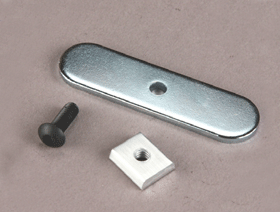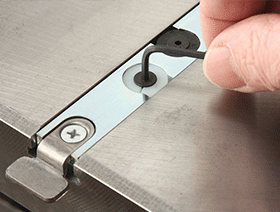 GlideLOCK Miter Bar
The
Miter 1000SE
's 6 expansion disks adjust both sides of the bar for ZERO side play, anti-friction travel on all table saws with standard miter gauge channels, including Delta, Craftsman, imports, etc. This means that all of INCRA's incredible precision will actually show up in your work because the bar CAN'T wiggle around in the miter slot. The Miter 1000's adjustable miter bar will fit square-sided miter slots measuring 3/4" wide, 3/8" deep, and with or without a 15/16" T-slot at the bottom. The miter bar's adjustment range accommodates actual slot widths between 0.740" and 0.765".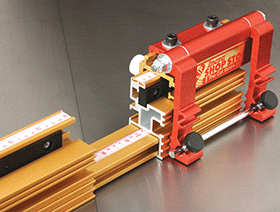 Special Edition Telescoping INCRA-LOCK Fence
This Special Edition Miter Fence telescopes from 18" to a full 31" length and features a front T-slot for adding a wooden zero-clearance sub fence. The Miter 1000SE's
Flip Shop Stop
is equipped with INCRA's patented incremental positioning racks for incredible cut-length accuracy and 100% day-to-day repeatability.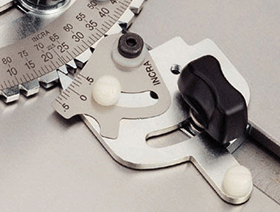 Special Edition 1/10th Vernier Cursor
Precision angle indexing teeth are laser cut in solid steel to lock in positive angle stops every 5 degrees over a 180 degrees range, with special stops at 22-1/2 degrees and 67-1/2 degrees. A stainless steel vernier cursor delivers an incredible 1/10th degrees resolution between fixed steps.
Doubles Any Miter Gauge's Crosscut Capacity to 24" and Securely Holds Even
the Smallest Workpieces for Safe Accurate Cuts
The crosscut capacity of any miter gauge is safely doubled to more than 24" when docked on top of the
Miter Express
. For these extra-large crosscuts, the non-drag support provided by the sliding panel, along with the extra holding power of the included
Hold Down Clamp
adds much needed stability and control. The same
INCRA Hold Down Clamp
also keeps your fingers comfortably away from the blade when cutting workpieces that are too small to safely hold by hand.
The
Miter Express
also includes an Outboard Fence Support that locks behind your fence in one of the two T-Slots, providing even more rigidity for all operations.
Assembles easily and 2 cuts give you perfect zero clearance
.
The sliding main panel and the locking drop-off support panel are each trimmed with one simple cut during assembly for a perfect fit on YOUR table saw, and the sled can be set up on either the right side or left side of the blade. The result is true Zero-Clearance Tearout Control on BOTH sides of the blade. The
Miter Express
is instantly removable from your saw table when making rip cuts or other operations that don't require a sled. And thanks to INCRA's quick release feature, your miter gauge undocks from the Express in seconds whenever you want to use your gauge on another tool such as a router table or sanding station.
INCRA Miter gauge combos Compatibility:
- Miter slot size: The miter bar's adjustment range accommodates actual slot widths between 0.740" and 0.762" and is designed for 3/4" wide x 3/8" deep square-sided miter slots, with or without a 15/16" T-slot at the bottom.

- Miter slot spacing: The max distance between the miter slots is 14" center-to-center. The minimum distance from the blade to the center of the miter slots is 3".

- Table size:
Note: Many portable or jobsite table saws are too narrow for the Miter Express.
For adequate lateral support, the Miter Express needs a minimum of 8" from the left-hand miter slot measuring outward to the left edge of the saw table if the main sled will be to the left of the blade, or at least 8" from the right-hand miter slot to the outer right edge of the saw (sled can be installed on either side of the blade).