we love hearing from you!
What do you like about INCRA? What could we improve? We value your feedback! If you have any comments on our products or our services, or any other information you'd like to share, we'd love to hear from you.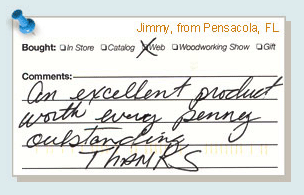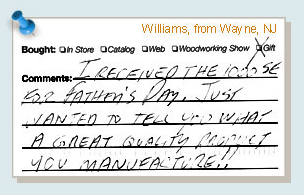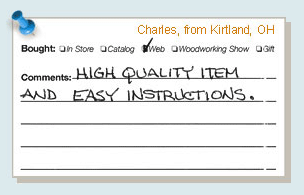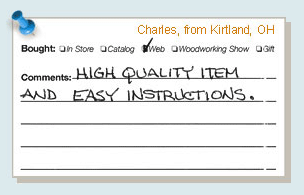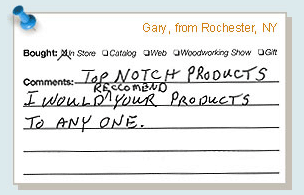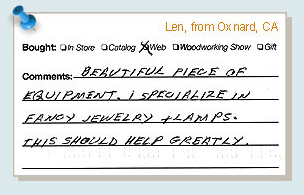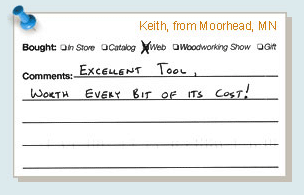 INCRA Miter Express

As always, Incra's instructions are second to none - very clear, great diagrams, well thought through, with components bagged in sequence. When you get an Incra product, you just know it's going to fit and you know it's going to work. As I assembled, I kept thinking 'well, I wonder how I'm going to do this or that sort of cut', only to find that they have thought it all through. As with my Positioning system, the quality of materials and components is a lesson to the rest of the world - yes, it's more expensive than competitors but I, for one, will continue to buy Incra. I now need a bigger workshop so that I can fit a positioning system to my table saw.

INCRA TSIII-32 32" Ultra Based Table Saw Fence Positioner

It was worth every penny that I've spent. Assembly of the Incra TS III was easy with the detailed instructions provided. Minor details, such as shims, extra bolts for every occasion, and individual hardware packaging allowed for hassle-free assembly and a touch of class.

Thank You Perry

...Just wanted to thank you for your help on the phone tues. about my problem with the base mount for my table saw. After removing the router mount from the L.S. positioner base and than mounting it on the red mounting plate it of course lowered every thing down where it was suppose to be. Now my T.S. fence works like its suppose to. I loved my L.S on my router table and now on my table saw its really going to be great. I sure enjoyed talking to you on the phone and hope to meet you in person some time. You and people like you are what makes Incra a great success and keeps customers coming back!

INCRA VDOV1 New Video

This video made the easy setups for centering even easier. I wished I had viewed it first. It also shows how to prevent tear out when cutting the outside waste from the tails.

INCRA Rules

The price is great. I would expect to pay twice this price to get even one ruler this accurate and useful. But here they give you three. You can't go wrong with these.

INCRA Rule

My sweetie purchased the 12" version for my Xmas present...This is the best gift ever!! No more slop like a tape measure, this rule is the ultimate measuring/marking tool that I could ever have. Thanks!

INCRA Miter V27

Since I have a nice cross-cut sled that I built to handle all of my 90 degree cuts, all I really needed was a decent quality miter gauge to handle any angle cutting or "nibble" cuts that I may need to make on the table saw. This Incra V27 gauge has been just the solution I was looking for! I highly recommend this tool!

INCRA Rules

I have the 6" version and could not imagine getting along without it. Layout is so much easier... everything from mortises to pulls. Accurate to 1/64, this little rule has saved me a lot of setup time because I have found that my test cuts end up being right on target. Be sure you have a mechnical pencil though... it won't work without one. Check out the regular rules... also very handy.

- Michael, from Harrisonburg
INCRA Miter 1000SE

... Every piece was cut using my Miter 1000SE. I do love the accuracy it allows me. Makes it look like I've been doing this for decades. Thanks again for the wonderful tools. I couldn't do it without you guys.

incra product categories: