INCRA Solid Aluminum MagnaLOCK RT Plates
Part Number: MLPUNDRILLED-AL, MLP1613-AL, MLP1619-AL, MLP3612C-AL, MLP621625-AL, MLP690890-AL, MLP7518-AL, MLPFT2000-AL, MLPFT3000-AL, MLPM12V-AL



INCRA's 3/8" Solid Aluminum Mounting Plates
are the new standard for achieving perfect cutting results at your router table. Precision-machined aircraft grade aluminum and bullet proof hard anodized plating translate to easy glide for your workpiece. While the 3/8" thickness is robust enough for the heaviest of routers on the market today. Designed for and included with every
INCRA Router Table Top
, these plates will fit the standard 9-1/4" x 11-3/4" recess in most other router table tops as well.
Ten fine thread plate-leveling screws provide extreme control in leveling the plate to your table and rock solid support at any position around the plate. A simple quarter turn of the corner mounted Cam-Lock fastener securely locks the plate in the router table's recess.
All of
INCRA's Aluminum Mounting Plates
feature the exclusive
MagnaLOCK™ magnetic throat plate system
. Changing any of the included throat plates is a snap with the MagnaLOCK™ System. Just drop in the selected plate. The high energy, rare-earth magnets hold the plate secure and perfectly flush every time.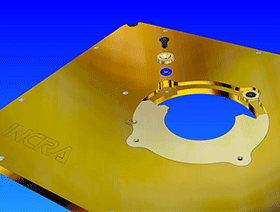 MagnaLOCK™'s instant, tool-free ring changes and perfectly flush fit for the rings make it simply the most convenient and best-performing ring system available. All of our mounting plates include three laser-cut steel rings with 1", 2-1/8" and 3-5/8" openings, and many more ring sizes are available as accessories.
Note: Specify your router preference when placing an order with your INCRA dealer. (See PDF for compatibility chart).