INCRA Miter 3000SE
Part Number: MITER3000/SE



The Miter 3000 Special Edition builds on the outstanding platform provided by the Miter 3000. The INCRA exclusive AngleLOCK Indexing System delivers 364 lock solid angle stops in 5┬░, 1┬░ and 1/2┬░ increments over a full 180┬░ range with continuous adjustability between all 1/2┬░ settings. Combine this with the included GlideLOCK Miter Bar,
Telescoping IncraLOCK Cut-off Fence
and the
INCRA Flip Shop Stop
, and you'll easily achieve mitering accuracy that you never thought possible. The Miter 3000SE by INCRA delivers perfect, repeatable accuracy.
First time - Every time - Any angle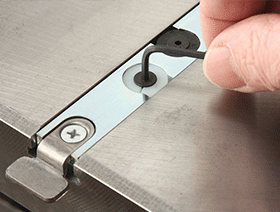 GlideLOCK Miter Bar
The expansion disks adjust both sides of the bar for ZERO side play, anti-friction travel on all table saws with standard 3/4" x 3/8" or near-standard miter gauge channels, including Delta, Craftsman, imports, etc. This means that all of INCRA's incredible precision will actually show up in your work because the bar CAN'T wiggle around in the miter slot. The miter bar's adjustment range accommodates actual slot widths between 0.740" and 0.765".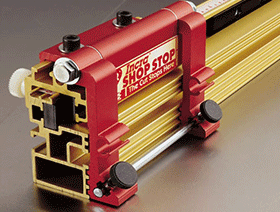 The INCRA Flip Fence
The 27" Flip Fence and Flip Shop Stop are standard equipment. INCRA's patented incremental positioning mechanics give perfect accuracy and repeatability to the length of your cross cuts, and the fence's front T-slot makes it easy to attach a woodend zero-clearance sub fence. A screw-based micro adjust is built right in, and the Flip Shop Stop even has an expandable body to cover sub fences up to 3/4" thick.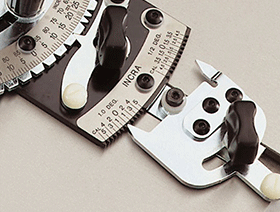 AngleLOCK Indexing
Precision angle indexing teeth are laser cut in solid steel to lock in 364 positive angle stops in 1/2┬░, 1┬░ or 5┬░ increments over a full 180┬░ range. it's also continuously adjustable between 1/2┬░ steps.
INCRA Miter 3000se Features:
- 364 Indexed Stops in 5┬░, 1┬░ and 1/2┬░ Steps

- New Extender-Bar Fence Telescopes from 27" to 49"

- GlideLOCK Miter Bar Adjusts to Fit Any Standard Table Saw

- INCRA Flip Shop Stop Positioner

- Indexing Every 1/2┬░ Plus Continuous Adjustment Between 1/2┬░ Steps