INCRA Miter 5000
Part Number: MITER5000



The
Miter 5000
blends the incremental angle control features of the
Miter 3000SE
with a special 3-panel Sled for exceptional accuracy, capacity, and control. 20"-25" panel cutting capacity on most saws plus T-tracks and a heavy duty hold down clamp for controlling small parts.
Miter gauges don't offer control or accuracy when pulled beyond the front of the saw, while the 5000 can crosscut 23" x 34" plywood cabinet sides with ease on most full size 10" table saws.
The 36" to 64" telescoping IncraLOCK Fence and Flip Shop Stop have plenty of range for long boards. Sleds allow better control because the lumber isn't sliding on the saw's top, and they're safer for small parts, too. The 5000 has aluminum T-tracks embedded in the MDF platform to secure the included heavy duty Build-It hold-down clamp.
The sled can be set up on either the left side or right side of the blade, and a
renewable Drop Panel
provides zero clearance tearout control on both sides of the blade.
First time - Every time - Any angle
INCRA Hold Down Clamp
. Included with every Miter 5000 is this simple and incredibly useful Hold Down Clamp which locks your workpiece onto the sled for maximum accuracy and the cleanest cuts possible. It only takes seconds to use and provides the rigidity needed for world class results.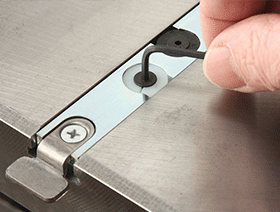 GlideLOCK Miter Bar
10 expansion disks adjust both sides of the bar for ZERO side play, anti-friction travel on all table saws with standard miter gauge channels, including Delta, Craftsman, imports, etc. This means that all of INCRA's incredible precision will actually show up in your work because the bar CAN'T wiggle around in the miter slot.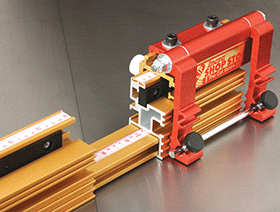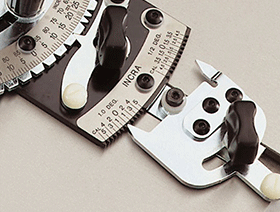 AngleLOCK Indexing
Precision angle indexing teeth are laser cut in solid steel to lock in 364 positive angle stops in 1/2 degrees, 1 degree or 5 degrees increments over a full 180 degrees range. it's also continuously adjustable between 1/2 degrees steps.
INCRA Miter 5000 Features:
- 364 Positive Stop in 1/2 Degrees Increments

- Extender Fence Telescopes from 36" to 64"

- GlideLOCK Miter Bar Adjusts to Fit Any Standard Table Saw

- INCRA Flip Shop Stop Positioner

- Indexing Every 1/2 Degrees Plus Continuous Adjustment Between

- Right- and Left-tilt saw compatible

- Fence lock down clamp for rock solid support

- Miter Slider included for static sled panel positioning


INCRA Miter 5000 SLED CompatibilitY:
-
Miter slot size:
The miter bar's adjustment range accommodates actual slot widths between 0.740" and 0.765" and is designed for 3/4" wide x 3/8" deep square-sided miter slots, with or without a 15/16" T-slot at the bottom.
-
Miter slot spacing:
The max distance between the miter slots is 12.5" center-to-center.
-
Table size:

Note: The Miter 5000 is not recommended for portable or jobsite table saws. For adequate support to the sides, the Miter 5000 needs a minimum of 10" measuring from the left-hand miter slot outward to the left edge of the saw table if the main sled will be to the left of the blade, or at least 10" from the right-hand miter slot to the outer right edge of the saw (sled can be installed on either side of the blade).
-
Will the Miter 5000 fit my saw?
Click here to find out!