INCRA Hingecrafter
Part Number: HINGECRAFTER
metric part number: M-HINGECRAFTER



Available in
Metric Version
(
Click here
for the matching Router Bit Sets).
So you've designed and built the ultimate jewelry box or cabinet, and it is with some apprehension that you approach that final step, installing the hinges.
Metal hinges are a pain. Let's face it. It's not so much the hinge itself, it's those darned brass screws. When you finally do get the pilot hole centered properly, the head of the screw is sure to twist right off during installation. It makes you wonder how many brass screw heads are actually glued instead of screwed in the hinge.
What's the solution? Just combine your INCRA Positioner or I-Box Jig with the HingeCrafter drill guide and the results will be beautiful wooden hinges ready to glue right into your project.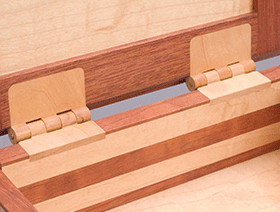 The INCRA HingeCrafter Makes
for 3/8", 1/2", 5/8" & 3/4" Hinges
(For metric version: 9.52mm, 12.70mm, 15.88mm & 19.05mm hinges)
That's right, you now use the HingeCrafter along with your INCRA Positioner or I-Box Jig to make four different diameter hinges with our famous incremental accuracy.

As you see here, the HingeCrafter easily works with extra-length hinges. Between the four diameters and the many possible lengths with longer drill bits, you have hundreds of options for your next hinge based project.
Even Extra Long Hinge Lengths are Easy with the INCRA HingeCrafter
Your only limit is twice the useable length of your drill bit. The included bit will make hinges well over 10" long. Ask our dealers for even longer bits for the longest wood hinges you have ever seen. Four diameters, dozens of lengths, unlimited choices.